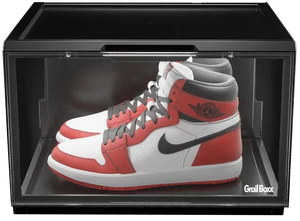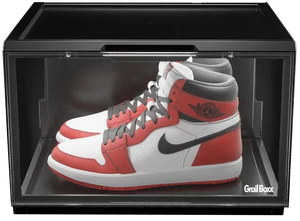 theshoeboxxclub
The GrailBoxx is the ultimate SneakerHead Shoe Box with UV Sterilization and Alexa voice support, SupBro you ready to get lit!
Sexy Hacker Clothing has created the ultimate stackable, customizable, light up display case for Sneaker Heads! This limited edition voice activated light up Shoebox includes a special UV Sterilization mode to help protect your shoes from COVID killing over 99% of most common surface viruses using UV Light! You can easily daisy chain these boxes together using USB-C, to quote the famous words of Doc Brown... "this suckers electrical." They will automatically light up by snapping your fingers or turn them on automatically using your Amazon Echo or Google Assistant.
Similar to the SupBro boxes found on the popular YouTubers the DNA SHOW or Jumpmanbostic these boxes kick it up notch. If you're HypeBeast or you just love shoes you need this ShoeBOXX!! Available in two flavors blacksides or clear sides but for way less money!
Plus these are customizable, that's right every GrailBoxx can be customized with "Skinz" to match your favorite collection. Sexy Hackers Clothing has partnered up with the ShoeBoxx to create new skins for these boxes every month! You'll be able to get matching artwork for every shoe in your collection regardless of if you're rocking those OG Jordan 1 Retro's, Red Octobers, Yeezys, New Balance or favorite pair of SB Dunks. You'll find skin that matches your love for sneakers. Every box includes a custom "Basketball Court" skin by default and if you join our subscription club we'll send you a new Box and Skin every month for only $39.99! To learn more check out our partners site TheShoeBoxx.net to join the monthly subscription club.